A delicious first day of my Month o' Bacon. The menu today consisted of bacon for brunch followed by a pre-Superbowl party snack of bacon. The party is hosted by my neighbor, a lovely man, who already – rightly – thinks me a touch eccentric.
Loudly asking, "Hey, you got any plain bacon? I'm on an all bacon diet for a month," is simply not an option. So no snacks for me.
As for Jimmy Dean bacon (today's brand), the guy was great in Giant, but his bacon will not sustain me for 27 more days.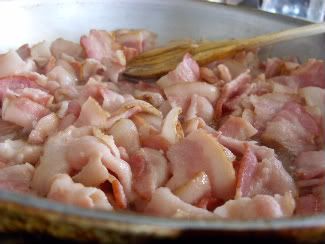 **Update** Many have suggested a Morgan Spurlock-like diary of my bacon diet, but I don't want to do that for a number of reasons. Number one, not that I care, but Spurlock lied about his food intake and has never released his food diary. Number two, bacon is wonderful and would never hurt you. Bacon loves you.
However, in the interest of advancing the bacon arts I am willing to release these few vitals: my waist size is 33/34. My blood pressure is pretty consistently 117/65. My weight hovers around 190. I'm 6'2″. I willing to bet you my weight will not change (may lose a little, actually) my blood pressure will probably drop a little, and I won't get any taller.
In short, I have every faith in bacon and I won't have it maligned.