This morning's meal consisted of a bacon face-off. On one side, Jimmy Dean's Original Premium bacon (motto "Shine On") and on the other Niman Ranch Applewood Smoked. The Niman's was clearly still smarting from the pounding it received at the hands of Cook's Illustrated – it looked down on the much smaller Jimmy Dean (exactly half the price!) with its intense gaze and said simply, "I must break you." Jimmy, however, had other plans.
Those plans were immediately dashed. Niman's, to use a bacon appropriate term, took Jimmy out behind the woodshed. It was smokier, thicker and had a better texture.
That is not to say that I couldn't be happy eating Jimmy Dean's, just that "the best is the enemy of the good." (I do think the cooks at Cook's illustrated were woozy from huffing vanilla extract before this test because they also trashed Nueske's bacon, which I've had and is quite delicious. They also seemed to punish bacons that were fatty, again, forgetting in their fume-induced orgy of scorn, that bacon is made from a very fatty cut of meat. They also praised the sweeter bacons, which makes me think they might be happier with a tin of bacon mints.)
**Update**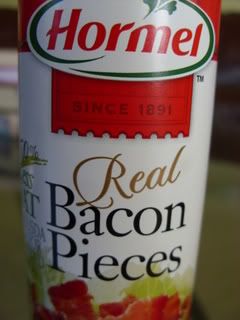 My wife, bless her, bought me a little on-the-go energy snack, a.k.a., bacon in a jar, which I took along on my workout. Not great, is my review, and the label may give some clue as to why: it's been sitting in the jar since 1891!